Region V Soil and Water Conservation Districts (SWCDs) include Alapaha, Flint River, Lower Chattahoochee River, Middle South Georgia, Ocmulgee River, and Pine Mountain.
Counties in Region V include Baker, Ben Hill, Berrien, Bibb, Brooks, Calhoun, Chattahoochee, Clay, Clinch, Colquitt, Cook, Crawford, Crisp, Decatur, Dooly, Dougherty, Early, Echols, Grady, Harris, Houston, Irwin, Lee, Lanier, Lowndes, Macon, Marion, Miller, Mitchell, Muscogee, Peach, Pulaski, Quitman, Randolph, Schley, Seminole, Stewart, Sumter, Talbot, Taylor, Terrell, Thomas, Tift, Turner, Webster, Wilcox and Worth.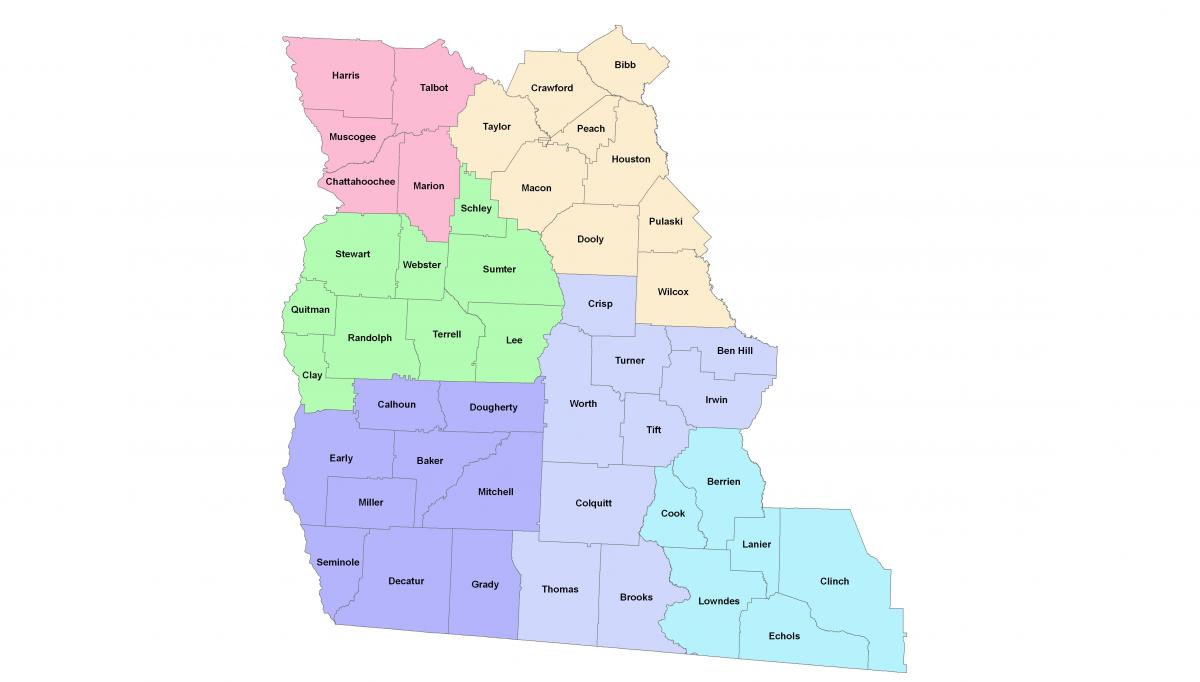 Contact Information
GSWCC Region V
4344 Albany Highway
Dawson, GA 39842
Phone: 229-995-6001
Fax: 229-995-5605
region5@gaswcc.org
Regional Representative: Luke Crosson
Agricultural Water Quality Project Specialist: Berry Collier
Administrative Assistant: Lancia Wyant
For directions to the Region V Office click here
Region V Districts
Berrien, Clinch, Cook, Echols, Lanier & Lowndes Counties
Email: AlapahaSWCD@gaswcc.org
Baker, Calhoun, Decatur, Dougherty, Early, Grady, Miller, Mitchell & Seminole Counties
Email: FlintSWCD@gaswcc.org
Website: http://flintriverswcd.org
Fox 31 - Tackling irrigation challenges of Southwest Georgia
Flint River wins 2013 NRCS Conservation Innovation Grant
Clay, Lee, Quitman, Randolph, Schley, Stewart, Sumter, Terrell & Webster Counties
Email: LowerChatSWCD@gaswcc.org
Forestry & Land Management Workshop - March 26, 2014
A Forestry and Land Management Workshop was held on March 26, 2014, at the Sumter County Agricultural Center, 127 William Bowen Pointe, Americus, Ga., 31719. Presentations were made on best management practices in forestry, wildlife habitat, forage, grazing, the new Farm Bill, and current water issues.
Agricultural Initiative and Outreach Workshop
The Lower Chattahoochee River SWCD sponsored a free workshop and luncheon on December 17, 2013, which was open to all farmers and landowners, including beginning, women, and minority farmers. Topics included organic farming, successful business plan foundations, private financing for irrigation, and more. The workshop was held at The Backporch Restaurant, 297 Buford Street, Shellman, Ga.
Ben Hill, Brooks, Colquitt, Crisp, Irwin, Thomas, Tift, Turner & Worth Counties
Email: MidSouthSWCD@gaswcc.org
Winning essay can score an ABAC scholarship - Deadline May 5, 2014
Essays on the 2014 stewardship theme: "Dig Deeper: Mysteries in the Soil" is open to high school seniors in the Middle South Georgia Soil and Water Conservation District. The winner will take home $75 and a one-year scholarship to Abraham Baldwin Agricultural College. Essays must be turned in to school coordinators or county district supervisors by May 5. First- second- and third-place prizes of $25, $15 and $10, respectively, will be awarded in each county. The top winner in each county will go to a district competition, with the winner there receiving the scholarship sponsored by the water conservation district and the Abraham Baldwin College Foundation. Those interested in entering the contest and seeking additional information may contact their local conservation supervisor, or Luke Crosson with the Georgia Soil and Water Conservation Commission at 229-995-6001.
Bibb, Crawford, Dooly, Houston, Macon, Peach, Pulaski, Taylor & Wilcox Counties
Email: OcmulgeeRiverSWCD@gaswcc.org
District Supervisor featured in July 2014 USDA Blog
District Supervisor Tim Allen and his wife Harriette were featured in a July 22, 2014, national USDA blog for their efforts in restoring the Longleaf Pine Range. The range is one of eight Critical Conservation Areas designated by NRCS. You can read the blog by clicking here.
Advanced Irrigation Management Workshop offered in conjunction with the Central Georgia SWCD on March 13, 2014
The Ocmulgee River and Central Georgia SWCDs hosted an advanced irrigation management workshop.  The event was held in Pulaski County and was well attended by over a hundred people. Topics for the workshop centered on the advances in irrigation technology.  Highlights included presentations covering filtration systems for irrigation, fertigation and chemigation, irrigation scheduling, drip irrigation, and variable rate irrigation.  Dr. George Vellidis, with the University of Georgia, discussed advanced irrigation scheduling as well as new mobile apps to help farmers irrigate more efficiently.  Casey Cox, with the Flint River Soil and Water Conservation District, discussed proactive conservation practices the Lower Flint Basin is doing to conserve Ag water. Available cost share opportunities for Ag water conservation were explained by the Natural Resource Conservation Service.  Tas Smith with Georgia Farm Bureau gave a presentation and overview of the new Farm Bill that is about to go into place.  To end the workshop, Ben Worley with VSG-Unmanned, gave a very interesting presentation covering how unmanned aerial vehicles are being used as a service for agriculture.After the luncheon, the crowd gathered to Hardy Farms to view how the unmanned aerial vehicles performed in the field and see images that it collected from the air.
Chattahoochee, Harris, Marion, Muscogee & Talbot Counties
Email: PineMtnSWCD@gaswcc.org