Region V Soil and Water Conservation Districts (SWCDs) include Alapaha, Flint River, Lower Chattahoochee River, Middle South Georgia, Ocmulgee River, and Pine Mountain.
Counties in Region V include Baker, Ben Hill, Berrien, Bibb, Brooks, Calhoun, Chattahoochee, Clay, Clinch, Colquitt, Cook, Crawford, Crisp, Decatur, Dooly, Dougherty, Early, Echols, Grady, Harris, Houston, Irwin, Lee, Lanier, Lowndes, Macon, Marion, Miller, Mitchell, Muscogee, Peach, Pulaski, Quitman, Randolph, Schley, Seminole, Stewart, Sumter, Talbot, Taylor, Terrell, Thomas, Tift, Turner, Webster, Wilcox and Worth.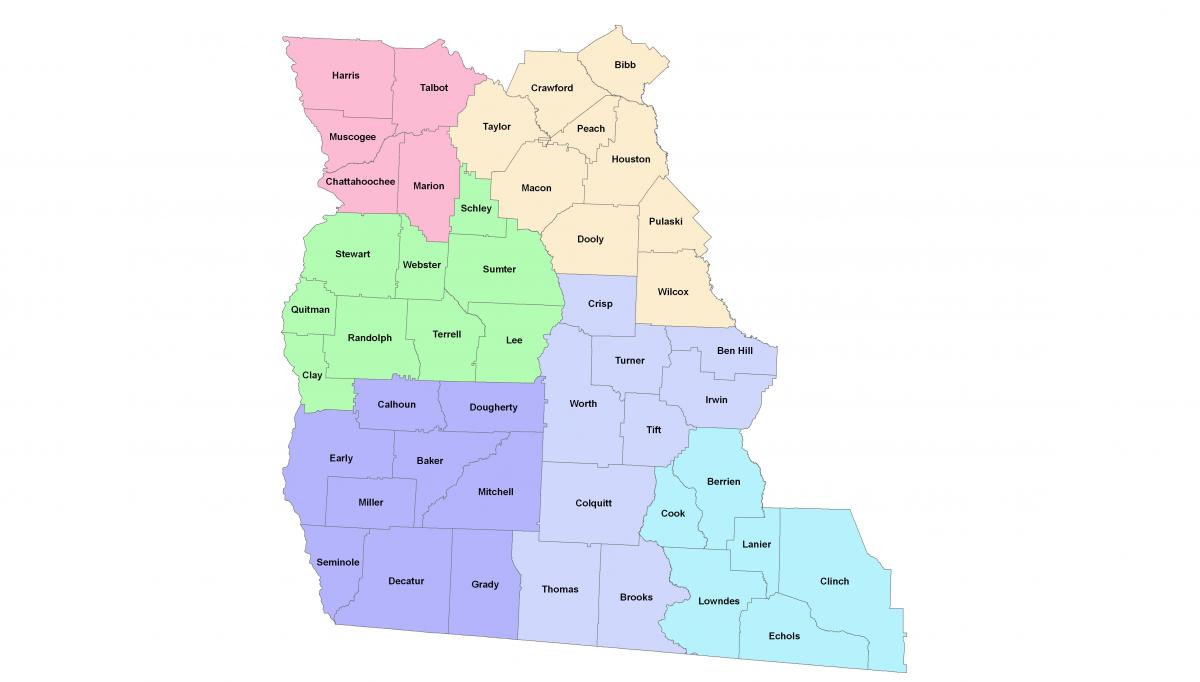 Contact Information
GSWCC Region V
4344 Albany Highway
Dawson, GA 39842
Phone: 229-995-6001
Fax: 229-995-5605
region5@gaswcc.org
Regional Representative: Luke Crosson
Agricultural Water Quality Project Specialist: Berry Collier
For directions to the Region V Office click here
Region V Districts
Berrien, Clinch, Cook, Echols, Lanier & Lowndes Counties
Email: AlapahaSWCD@gaswcc.org
Baker, Calhoun, Decatur, Dougherty, Early, Grady, Miller, Mitchell & Seminole Counties
Email: FlintSWCD@gaswcc.org
Website: http://flintriverswcd.org
Fox 31 - Tackling irrigation challenges of Southwest Georgia
Flint River wins 2013 NRCS Conservation Innovation Grant
Birds of Prey presentation sponsored by Flint River SWCD
Schools in Camilla, Cuthbert, Pelham and Cairo, Ga., participated in a Birtds of Prey demonstration given by Steve Hein, Director for Georgia Southern University Center for Wildlife Education and sponsored by the Flint River SWCD.
Clay, Lee, Quitman, Randolph, Schley, Stewart, Sumter, Terrell & Webster Counties
Email: LowerChatSWCD@gaswcc.org
Agricultural Initiative and Outreach Workshop
The Lower Chattahoochee River SWCD sponsored a free workshop and luncheon on December 17, 2013, which was open to all farmers and landowners, including beginning, women, and minority farmers. Topics included organic farming, successful business plan foundations, private financing for irrigation, and more. The workshop was held at The Backporch Restaurant, 297 Buford Street, Shellman, Ga.
Ben Hill, Brooks, Colquitt, Crisp, Irwin, Thomas, Tift, Turner & Worth Counties
Email: MidSouthSWCD@gaswcc.org
Bibb, Crawford, Dooly, Houston, Macon, Peach, Pulaski, Taylor & Wilcox Counties
Email: OcmulgeeRiverSWCD@gaswcc.org
Advanced Irrigation Management Workshop - March 13, 2014
Chattahoochee, Harris, Marion, Muscogee & Talbot Counties
Email: PineMtnSWCD@gaswcc.org
Pine Mountain celebrates 28th Annual Forestry Field Day
On March 22, 2013, Pine Mountain SWCD hosted its 28th annual Forestry Field Day at the Marion County Middle/High School in Buena Vista. Over 150 students and 65 volunteers from 10 surrounding counties attended and experienced competitions. Bleckley County won 1st place overall in the Senior Division, followed by Treutlen County and Marion County. The Pine Mountain SWCD also sponsored a Farmer's Field Day in conjunction with GACDS to provide educational outreach opportunities to historically underserved agricultural producers in the Pine Mountain Soil and Water Conservation District.