Region II Soil and Water Conservation Districts (SWCDs) include Broad River, Columbia County, DeKalb County, Gwinnett County, Hall County, Lincoln County, McDuffie County, Oconee River, Stephens County, and Upper Chattahoochee River.
Counties in Region II include Banks, Barrow, Clarke, Columbia, Dawson, DeKalb, Elbert, Forsyth, Gwinnett, Franklin, Habersham, Hall, Hart, Jackson, Lincoln, Lumpkin, Madison, McDuffie, Oconee, Oglethorpe Stephens, White, and Wilkes.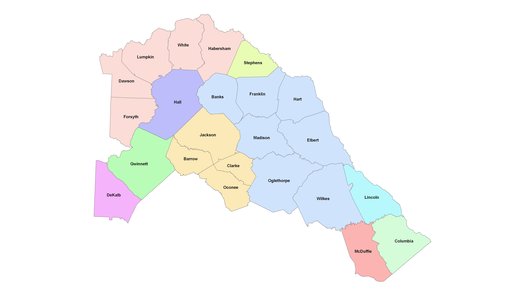 Contact Information
Until further notice please contact the Athens office
with any questions related to Region 2.
 
GSWCC
4310 Lexington Road
Athens, GA 30605
Phone: 706-552-4470
Email: gaswcc.swcd@gaswcc.ga.gov
Region II Districts
Banks, Elbert, Franklin, Hart, Madison, Oglethorpe, & Wilkes Counties
Two-day small farm conference at Unicoi State Park - March 23-24, 2015: No cost to first 120 people who register.
The Broad River Soil and Water Conservation District, in partnership with the Upper Chattahoochee River Soil and Water Conservation District and USDA's Natural Resources Conservation Service, will be hosting a small farm conference Mar. 23-24, 2015, at Unicoi State Park in Helen, Ga. The goal of the conference is to educate farmers with small-scale operations on ways to improve their operations and make them run more efficiently and profitably. The two-day conference will feature general sessions that will cover major agricultural topics, as well as breakout sessions that will cover unique topics of interest to small farming operations. Registration for the conference is $225 per person. However, through sponsorship from the Broad River Soil and Water Conservation District, the first 120 people to reserve a spot will receive a fully-paid scholarship for the event. Registration must be received by Feb. 20, 2015. For more information, and to register for the event, contact the Georgia Soil and Water Conservation Commission Region II office in Athens at 706-552-4479.
The News-Reporter (Dec. 11, 2014) - Smith Family Farms noted for conservation practices
North Georgia Forest Landowner Field Day - October 17, 2014
A Field Day for forest landowners was held at the Arrowhead Lodge in Elbert County on October 17, 2014. Participants learned about managing their wildlife, selling timber, wildfire mitigation, forest health, and more. Cost was $5 per person and included lunch.
Poultry Composter Field Day in Martin – June 25, 2014
Ecodrum™ Composter Field Day was held  on June 25, 2014, at Eric Segars Farm, 1234 Baty Road, Martin, Georgia. Composting made easy, with the most economical solution to animal mortality management. The Ecodrum™ composter is a year-round controlled composting system, processing 100% of barn mortalities on site within a short period of time. Program also included cost-share information from the NRCS and tips for use from Eric Segars, farm owner. Sponsored by: Ecodrum, Broad River Soil and Water Conservation District, Franklin County Young Farmers, and Franklin County Extension Service.
Pond Management Field Day in Danielsville, Ga. - July 17, 2014
Broad River SWCD sponsored an informative workshop on Thursday, July 17, 2014, from 9 a.m. to Noon, on how to improve the quality and performance of your pond. Presentations were given by the Georgia Department of Natural Resources and the USDA-NRCS (Deena Roberts and Carol Boss). Topics included Pond Maintenance and Fish Health. Lunch was provided. The Field Day was held at Gunnells Pond (755 Adams Road, Danielsville, Ga.).
Columbia County
DeKalb County
Annual Report     Plan of Work
Gwinnett County
Annual Report     Plan of Work
Gwinnett County SWCD Level II Recertification - Shorty Howell Park
A Level II Recertification class is being sponsored by the Gwinnett County SWCD at Shorty Howell Park on December 16, 2015 from 9:00 A.M. to 1:00 P.M.
Gwinnett County SWCD Level 1A & 1B Recertification - Dacula City Hall
Level 1A & 1B Recertification classes are being sponsored by the Gwinnett County SWCD. Classes are being held at the Dacula City Hall on January 20th, 2016 from 9:00 to 1:00pm.
Lamme Farm Multi-Cultural Workshop in Dacula, Ga. – July 12, 2014
The workshop at the Lamme Farm included discussions on irrigation and soil management, as well as hands-on activities so participants could learn how to do-it-yourself.  The event was held at the Lamme Farm, 676 Tanner Road, Dacula, Ga., on July 12, 2014, and was sponsored by McFarland Dyer & Associates Inc., Upper Ocmulgee River RC&D Council, UGA Extension Service - Gwinnett County, USDA Farm Service Agency, USDA - NRCS Lawrenceville Office, Gwinnett County Soil & Water Conservation District, Georgia Soil & Water Conservation Commission, and the City of Dacula.
Hall County
Website: http://www.hallswcd.org/
Hall County Forage Field Day - May 7, 2014
  Hall County SWCD, UGA, Hall County Extension, and USDA-NRCS joined together for a field day on pasture management and forage quality. The day started at 9 a.m. at Muddy H Dairy, 4877 Clarks Bridge Road, Gainesville, Ga., 30507, then moved to Jaemor Farms for lunch and afternoon programs. The field day included:
Commercial/Private Pesticide Credits
Pasture Evaluation
Afternoon Presentations
For more information on this day, contact Hall County Extension at 770-535-8293.

Lincoln County
McDuffie County
Barrow, Clarke, Jackson, & Oconee Counties
Stephens County
Dawson, Forsyth, Habersham, Lumpkin, & White Counties