Education and Certification
EC image.jpg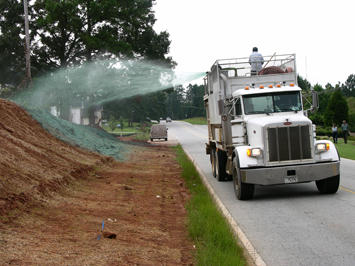 Anyone involved in land development, design, review, permitting, construction, monitoring, inspection, or any land-disturbing activity in Georgia must meet education requirements and be certified by the Georgia Soil and Water Conservation Commission program developed in consultation with the Georgia Environmental Protection Division and the Stakeholder Advisory Board. Resources for education and certification are found on these pages.
Learn more in this short video: Breaking New Ground - Georgia's Education and Certification Program for Persons Involved With Land Disturbing Activities
Verification for Applicants Seeking to Obtain or Renew E&S Certification 
Verification of Lawful Presence in the United States – Effective January 1, 2013
Amendments to O.C.G.A. § 50-36-1, requires the Georgia Soil and Water Conservation Commission (Commission) to obtain a signed and sworn affidavit verifying the applicant's lawful presence in the United States.  This document is to be accompanied by a copy of at least one "secure and verifiable document" O.C.G.A. § 50-36-1(e), for all individuals seeking certification or re-certification for land disturbing activities. 
Documentation Required
The Commission will require all individuals to submit a Checklist for Verification of Lawful Presence within the United States (checklist), along with one of three different affidavits from which the applicant must choose.  This will provide the basis for his or her lawful presence in the United States and a legible photocopy of one of the 16 secure and verifiable documents listed as defined by O.C.G.A. § 50-36-2.
Submitting the Documentation
Documentation may be submitted to the Commission via mail, prior to attending a course or at the certification/re-certification course.    All Commission Approved Trainers will be Public Notaries.  Individuals who elect to take an online re-certification course must complete and submit documentation to the Commission via mail.  
An individual may attend a certification or re-certification course prior to having their citizenship verified.  However, in the event that citizenship cannot be verified, the individual must understand that certification/re-certification will not be granted and the course fee will not be refunded.
Related Documents
Erosion & Sediment Control Courses
See below for descriptions of courses offered on erosion and sediment control.
Education and Certification - Related Links
Education and Certification - Related Files
Education and Certification - Related Files