Region I
Region I Soil and Water Conservation Districts (SWCDs) include Blue Ridge Mountain, Catoosa County, Cobb County, Coosa River, Fulton County, Limestone Valley, Roosevelt, and West Georgia.
Counties in Region I include Bartow, Carroll, Catoosa, Chattooga, Cherokee, Cobb, Coweta, Dade, Douglas, Fannin, Floyd, Fulton, Gilmer, Gordon, Haralson, Heard, Meriwether, Murray, Paulding, Pickens, Polk, Rabun, Towns, Troup, Union, Walker, and Whitfield.
State Headquarters
GSWCCRegion1Oct2013.jpg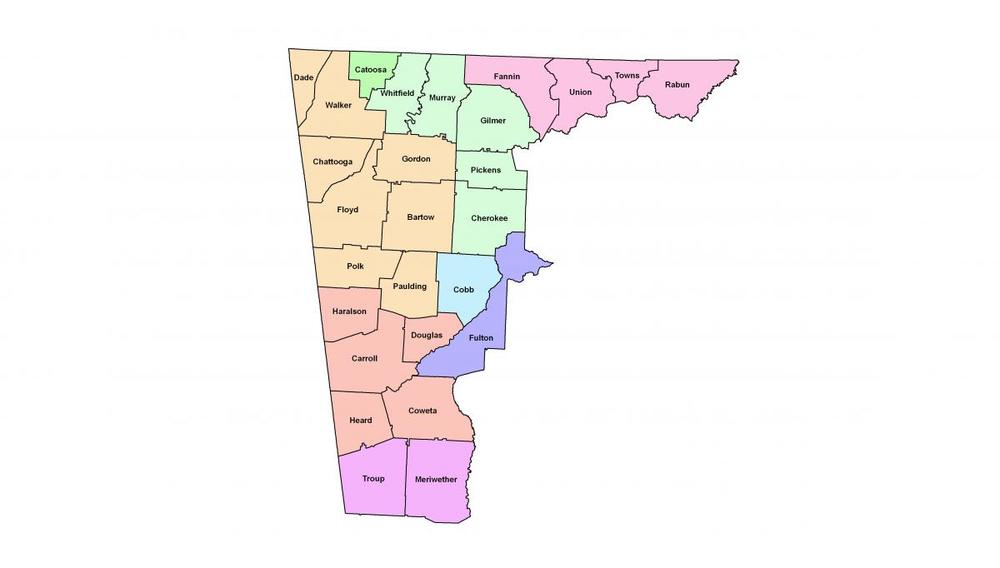 Region I Districts
Fannin, Rabun, Towns & Union Counties
Catoosa County
Website: https://catoosaconservationdistrict.org/
Cobb County SWCD
Cobb County
Bartow, Chattooga, Dade, Floyd, Gordon, Paulding, Polk & Walker Counties
In 1937, Coosa River became the first district to be established in Georgia and the second to be established in the United States..
Fulton County
Website: http://www.fultonswcd.com
Cherokee, Gilmer, Murray, Pickens & Whitfield Counties
Meriwether and Troup County
Carroll, Coweta, Douglas, Haralson & Heard Counties