:
Beginning March 30th - GSWCC Athens office closed to the public
Region IV
Region IV Soil and Water Conservation Districts (SWCDs) include Central Georgia, Clayton County, Henry County, Lamar County, Piedmont, Rockdale County, Towaliga, Upper Ocmulgee River, Walton County, and Warren County.
Counties in Region IV include Baldwin, Bleckley, Butts, Clayton, Dodge, Fayette, Greene, Hancock, Henry, Jasper, Johnson, Jones, Lamar, Laurens, Monroe, Morgan, Newton, Pike, Putnam, Rockdale, Spalding, Taliaferro, Twiggs, Upson, Walton, Warren, Washington, and Wilkinson.
State Headquarters

rsz_region4.jpg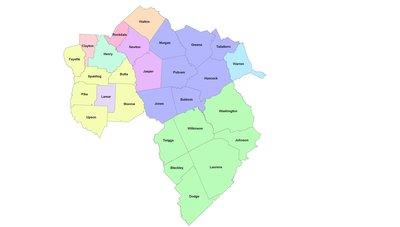 Region IV Districts
Bleckley, Dodge, Johnson, Laurens, Twiggs, Washington, & Wilkinson Counties
Clayton County
HENRY COUNTY SWCD
Henry County
Annual Report    
Plan of Work
Lamar County
Baldwin, Greene, Hancock, Jones, Morgan, Putnam, & Taliaferro Counties
Rockdale County
Supervisors
Kenny A. Johnson is Rockdale County board chairman for Soil and Water Conservation District State Board. He is a business owner and has over 25 years of experience in the environmental field. 
David Shipp
George Kelecheck
The Rockdale County Conservation District meets the fourth Friday of each month at 8:30 a.m. via Zoom during COVID-19.
Contact information:  Johnson.RSWCD@gmail.com
Social media:  Twitter   Instagram   Facebook
Towaliga SWCD
Butts, Fayette, Monroe, Pike, Spalding, & Upson Counties
Jasper & Newton Counties
WALTON COUNTY SWCD
Walton County
Warren County