Longleaf Pine Range Critical Conservation Area
The Longleaf Pine Range has been identified as one of 8 national Critical Conservation Areas as part of RCPP.
LongleafPineRangeMap_CCA-2014.png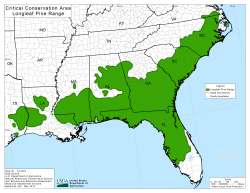 Longleaf pine forests once encompassed more than 90 million acres of the North American landscape and represented some of the world's most unique biologically diverse ecosystems.  In 2010, approximately three percent, or 3.4 million acres, of longleaf pine forest remained. 
With the CCA designation, USDA will build on existing strong partnerships in the range to improve the profitability and sustainability of longleaf pine forest ecosystems. NRCS and partners recognize the need to support a range-wide approach that accelerates conservation technical assistance and program delivery to private landowners in the longleaf pine range.
Overall Goal: With support of partners, increase the longleaf pine acreage goal from 3.4 to 8 million acres by 2025.

Resource Concerns Priorities:

Inadequate Habitat for Fish and Wildlife: Habitat degradation
Degraded Plant Condition: Undesirable plant productivity and health; excessive plant pest pressure
Water Quality Degradation: Excess nutrients and pesticides in surface and ground waters; excessive sediment in surface waters