:
Beginning March 30th - GSWCC Athens office closed to the public
Wildlife Habitat in Georgia
USDA Approves 1,000 More Acres in Georgia for Wildlife Habitat
The Farm Service Agency (FSA) has announced that 1,000 acres in Georgia are now available for wildlife habitat improvement incentives. 
FSA is accepting applications to enroll more acres in the State Acres for Wildlife Enhancement (SAFE) program, part of the Conservation Reserve Program (CRP) whereby FSA contracts with landowners so that environmentally sensitive land is not farmed or ranched, but instead used for conservation. Targeted wildlife species in Georgia is Native Pine Savanna.
Program participants establish long-term plant species to control soil erosion, improve water quality, or strengthen declining wildlife populations. In return, participants receive annual rental payments between 10 and 15 years.
The SAFE program allows state fish and wildlife agencies, non-profit organizations and other conservation partners to target the Conservation Reserve Program within distinct geographic areas to help wildlife. SAFE is limited to 1.35 million acres nationally, with 97 projects in 36 states and Puerto Rico.
Interested landowners can enroll acres in a designated wildlife project in their state at any time. Participants and land must meet certain eligibility requirements. Other restrictions may apply. For additional details, contact your local Farm Service Agency office at offices.usda.gov or visit the website at www.fsa.usda.gov/conservation.
Bobwhite Quail Recovery Plan
Land use changes over the past decades in Georgia have caused loss or degradation of early succession habitat for wildlife species including the bobwhite quail.
Georgia's Soil and Water Conservation Districts, the Georgia Soil and Water Conservation Commission, and the Georgia Association of Conservation District Supervisors have joined with the Georgia Department of Natural Resources Wildlife Resources Division to restore approximately 24,000 wild quail coveys in the state.
Early succession habitat is the vegetative community that occurs for several years after a soil disturbance, such as prescribed fire, and is comprised of annual and perennial plants.
Plans are for restoration of areas in all or parts of 68-Upper Coastal Plain counties that have been identified as priority restoration landscapes.
GA DNR will work intensively with interested landowners within these priority areas, form landowner cooperatives where feasible, and work with managers of select public lands to restore and manage bobwhite populations.
For more information, visit the GA DNR Bobwhite Quail web page.
Partners for Fish & Wildlife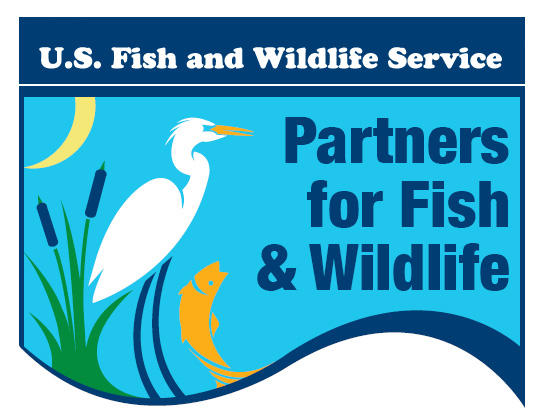 The Georgia Soil and Water Conservation Commission, in cooperation with the United States Fish and Wildlife Service, partners with private landowners to fence out livestock from various water bodies and environmentally sensitive areas through the Partners for Fish and Wildlife Program (PFW). A 90% cost share program provides an incentive for landowners to participate in the program while helping to establish riparian buffers that improve water quality and wildlife habitat.
In 2010, the GSWCC Region IV Office developed nine Partners for Fish and Wildlife proposals for individual landowners. Once complete, these projects will create approximately 40,000 feet of buffer fencing and establish 159 acres of riparian/wildlife buffers.
Cooperative Agreement for Stream Bank Restoration Program
The GSWCC's Stream Bank Restoration Program assists landowners through public-private partnerships by offering advice and funding for habitat projects on private lands that restore and protect wetlands and other wildlife habitat that might otherwise go unprotected.  The funding for this cost-share initiative is provided by the U.S. Fish and Wildlife Program to GSWCC and provides incentives to install practices that improve riparian buffers and repair and protect stream banks. Project applications are prioritized in order to address priority watersheds and to provide maximum benefit to the 63 species on Georgia's Threatened & Endangered Species List.
Agriculture has long been identified as a source of nonpoint source pollution in streams listed on the Georgia 303(d) and 305(b) Impaired Streams lists.  These projects work to reduce nonpoint source pollution and protect, improve and restore habitats through 10-year agreements.  Using GSWCC's existing infrastructure, administrative costs are kept at a minimum, thereby allowing the  majority of the funding to be available for landowner contracts.
Practices that have been part of this cost-share program in the past include establishing buffers, fencing, watering ramps, heavy use areas, and water troughs.  GSWCC works with landowners to establish buffers that incorporate native plant species and offer habitats to local threatened and endangered species.  These revived habitats also offer temporary housing for migratory birds throughout the year as well as fishery habitats in streams.
The Partners for Fish & Wildlife Program has contributed to the health and quality of over 50 miles of Georgia streams with the creation or improvement of more than 200 acres of riparian buffers.  This program appeals strongly to landowners with a desire to continue their farming operation while improving conservation practices on their farms.  The Stream Bank Restoration Program emphasizes landowner choice and control and also allows landowners to maintain all rights to their land including control of hunting and fishing. If you are interested in this program, please contact the Regional Office that covers your county.